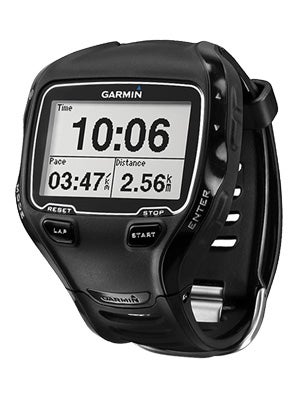 The Forerunner 910XT has generated a lot of buzz over the past few months on several blogs and forums. Given the amount of technology the company managed to pack into this model, it's no wonder that plenty of people are talking it up.
The Garmin 910XT is in stock at Running Warehouse, so it's time to generate some buzz on our blog too. The 910XT offers several innovations to improve an athlete's performance during a triathlon. The triathlete is the target audience and inspiration for the 910XT.
But don't be fooled…this watch is also pretty awesome for the runner who wants an all-in-one device that can handle long distance running events, the occasional cycling trip or a serious water workout. In fact, it has a few features that are making it particularly enticing to ultra runners who crave highly accurate measurements in a watch that can go the distance.
9 Fantastic Features…
Some of the many reasons the 910XT is worth a look:

1. Barometric Altimeter: For real-time, highly accurate elevation data, a barometric altimeter leaves GPS measurement in the dust. GPS can get pretty inaccurate in mountainous terrain – the barometric altimeter is ideal for ultra runners who want to know exactly where they are on a climb or descent, along with their total elevation gain and loss.
2. 20-Hour Battery: A feature designed for Ironman competitions, the long battery life is a big plus for long-distance trail runners as well.
3. Virtual Racer: Introduced with the Garmin 610, this feature lets you race against your own PRs for a course or download someone else's workout on the same course. You'll know in real time how you stack up to the virtual runner.
4. Sleeker Fit: The 910XT is only 0.6 inches deep, meaning it protrudes out from the wrist less than the 310XT (0.8 inch depth) for a less-obtrusive look and better feel on your wrist.
5. Swim Features: Good for open water or the pool, the 910XT has an AutoLap feature that allows you to select from standard pool lengths or enter in a custom length. Also, thanks to the built-in accelerometer, it can keep track of your stoke count and analyze the efficiency of your swim stroke.
6. Run/Walk Alerts: Designed for runners who pace themselves by alternating between running and walking, these alerts can also be used as a reminder to eat or drink at regular intervals. Comes in handy for endurance events.
7. Training Effect: Also available on the 610, Training Effect measures exercise intensity level to help you train more efficiently.
8. More Bells & Whistles: Garmin had to cut back in other areas to make room for the new features, right? Nope. The headline features of the 910XT have been added to the many other features runners have come to expect in Garmin products, including calorie computation, fully customizable screen, multi-sport mode and many more.
9. With or Without HRM: Like all Garmin Forerunner models, you can purchase the 910XT alone, with a heart rate monitor (HRM), or add an HRM down the road (purchased separately).
…And a Little Something Extra
So what's the extra 0.10 reason to consider the 910XT? The flexible plastic band can be traded out for a velcro strap (sold separately here) for increased comfort and a more customized fit. As you can see, the features of the 910XT are going to help a lot of runners and triathletes hit new heights on the road, the trails and in the water.
Related posts: